Meet the Clermont Dental Team
We are committed to maintaining confidentiality, accountability, and doing what it takes to get the job done well.
We love to learn the latest best practices in dentistry, and we will adapt as a team in order to implement what we learn.
We are committed to greeting our patients by their name and with a smile — whether in the office or on the phone.
We do what's best for our patients.
We operate with honesty and sincerity.
We strive to understand our patients.
Dr. Atousa Safavi is a graduate of the University of North Carolina at Chapel Hill Adams School of Dentistry and has extensive experience in every facet of dentistry. She has worked as a clinical dental assistant, dental hygienist, clinical researcher, and now a dentist. After graduating from dental hygiene school, Dr. Atousa Safavi began working as a clinical research coordinator at the University of North Carolina at Chapel Hill Adams School of Dentistry while completing her master's in clinical research at Campbell University.
Since then, Dr. Safavi has worked as a public health dentist providing general dentistry to a diverse population with a focus on comprehensive care. She practiced at Piedmont Health in Chapel Hill, North Carolina and Metro Community Provider Network (Stride) 2016-2018 in Denver, Colorado.
As a member of the Spear Faculty Club and Study Club, Dr. Safavi has chosen one of the world's most respected and comprehensive continuing educational resources. Passionate about dentistry and committed to a lifetime of clinical learning and professional development, Dr. Safavi and the dental team in this practice provide the highest level of care.
Dr. Safavi has served as a part-time adjunct faculty at UNC-CH Adams School of Dentistry. She is currently a member of the part-time Associate Clinical Faculty at the University of Colorado School of Dental Medicine (since May 2017). She is certified as an approved consultant in clinical hypnosis and serves as part of the teaching committee with the American Society of Clinical Hypnosis (ASCH). She is also a Fellow with the International Dental Implant Association.
Personal and Professional Passions
Dr. Safavi finds meaning in her life by being in service to others. She spent years giving back by working in Public Health. Meeting the dental needs and improving the health of people in the community. She is known for helping people overcome personal challenges and reach their goals. Through different modalities and a kind heart, she is able to assist her patients with overcoming fear, anxiety and unhealthy habits.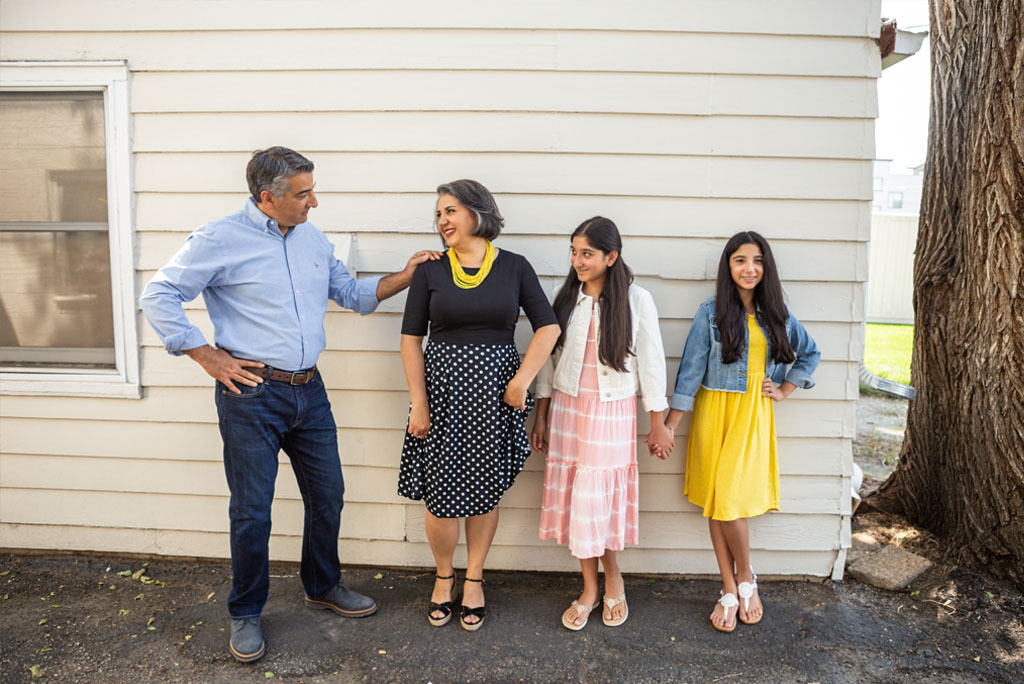 When she is not at the dental office, you can find Dr. Safavi at the Colorado Ballet, enjoying watching her twin daughters (Ava and Darya) dance. She also enjoys hiking, skiing, biking, traveling, and spending time with her husband, Afshin.
Dr. Ishita Topiwala completed her undergraduate studies in Biomedical Sciences specializing in Pathology and Toxicology at Western University where she graduated with gold medal distinction. She then pursued her passion for dentistry at the prestigious Faculty of Dentistry at University of Toronto, graduating with honours.
After graduating dental school, Dr. Topiwala started her career in private practice in Washington DC.
She has recently moved to Denver and is excited to start her journey here.
No matter where she is practicing, connecting with patients and becoming an integral part of their lives has been the most rewarding part of her journey.
Patients frequently mention how comfortable she made them feel and how she helped ease their anxiety.
Building trust and rapport is crucial to her and she desires to make a lasting impact on the community she serves.
Personal and Professional Passions
In addition to private practice, Dr. Topiwala has had the privilege of providing dental care to underserved communities in Uganda and Grenada.
Outside of her dental career she lives a fulfilling life with her fiancé and their rescue pup Daisy. They are getting to know Colorado by exploring the outdoors and going on hikes whenever they can.
She does pottery as a hobby and her happy place is her home studio where you can find her throwing pots on the wheel. 
Ready to Schedule a Consultation?
WE CAN'T WAIT TO MEET YOU!