A SMILE IS A UNIVERSAL LANGUAGE
Life can throw us a few curve balls every now and again, but being able to smile your way through them can be a useful tool in our toolbox. So, with such great importance on a smile, can you imagine not being confident in your smile?
We can! And it's more common than you think. According to The American Association of Orthodontists (AAO), one-third of Americans dislike their smiles because of their teeth. Why? There could be many reasons such as having misaligned teeth, gaps, stained or chipped teeth. These tooth imperfections which could occur due to a lack of dental care, all add up and create this issue.
How do you fix your smile?
In the case of misaligned teeth, the first solution most people think of is braces. And sure, braces are a cardinal rite of passage for many children and teens who want a perfect smile, but for those that skipped this stage, it's not an immediate choice.
We have GOOD NEWS; they're not the only way to straighten your teeth.
As you all know, Clear Aligners are a convenient and affordable alternative to braces. They can correct mild to moderate cases of crowded teeth, gapped teeth, overbite, underbite, and more. They contain a series of plastic aligners created using initial impressions or digital scans of your teeth. Straightening teeth with clear aligners is a discreet way to align your teeth without braces and create a healthy, beautiful smile.
Having straight teeth is not just a cosmetic improvement. Having straight teeth also improves one's oral health as well as breathing and sleep quality.
Which aligners should you use?
There are a wide variety of clear aligners that you can choose from such as Clear Correct, Byte, AlignerCo, or Invisalign. However, in this blog post, we will be recommending one of the new brands we've started working with; Candid, and here's why:
Besides the obvious benefits of clear aligners being removable, invisible, and less admin, here's why you should choose Candid Clear Aligners
1. Candid Uses a 'Hybrid' Treatment Model
Candid, recently, transitioned to "CandidPro," a new hybrid service that offers the convenience of at-home treatment with the hands-on care of a local dentist who is a qualified CandidPro provider. These licensed dentists begin treatment by taking digital scans and impressions of your teeth. You can't order an impression kit online.
After this consultation, the provider will send your scans to a Candid orthodontist, who designs your custom treatment plan. The same orthodontist who designs your treatment plan in partnership with your local dentist will track your teeth straightening progress via CandidMonitoring. This ensures your teeth are moving correctly and safely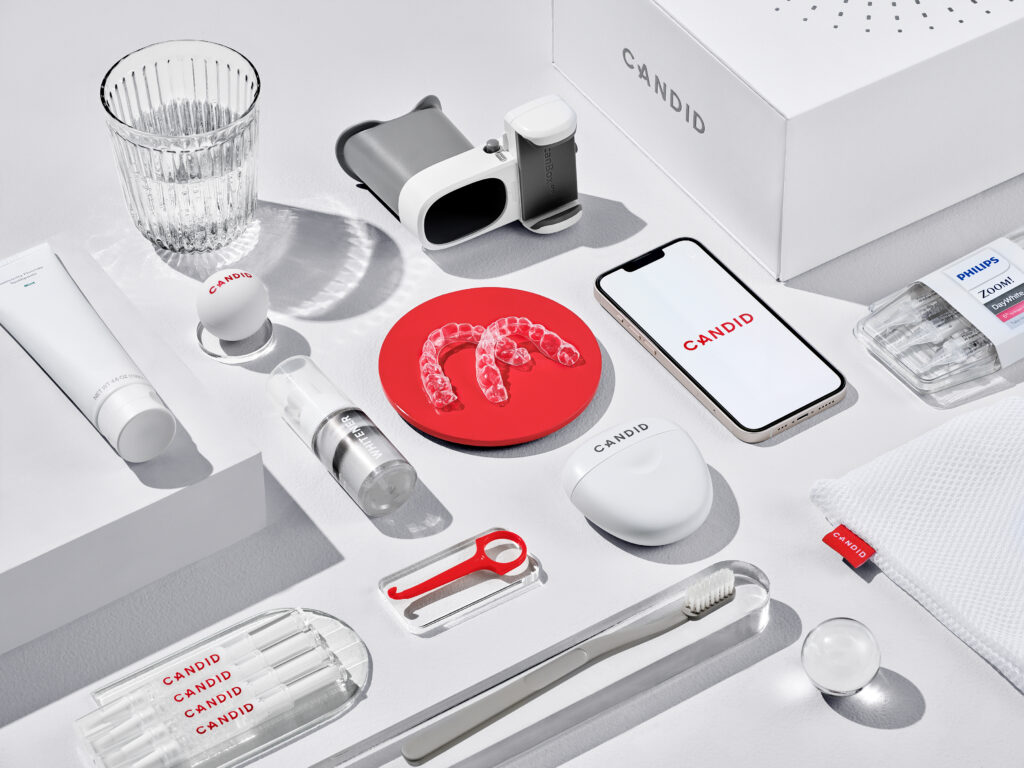 2. Candid Clear Aligners are effective
Orthodontic treatment is a significant investment that most people have to think about before purchasing. It is not uncommon to want to know how effective a certain product will be before buying it.
Candid's effectiveness comes from several factors such as the design and impact of the aligners. For example, the clear aligners are cut straight across the top above your gum line, rather than scalloped to perfectly match your teeth. This is a major advantage since research has shown that scalloped aligners exert significantly less pressure against the teeth. By cutting their aligners straight across and over the gum line, they can use the gums as an anchor to apply up to 4 times more force to the teeth.
Aligners work by using carefully calibrated force to move your teeth into a new position, forcing the body to adapt by remodeling the bone. Each set of aligners is a unique 3D-printed model of the teeth designed to move them into different positions along the way to the desired result.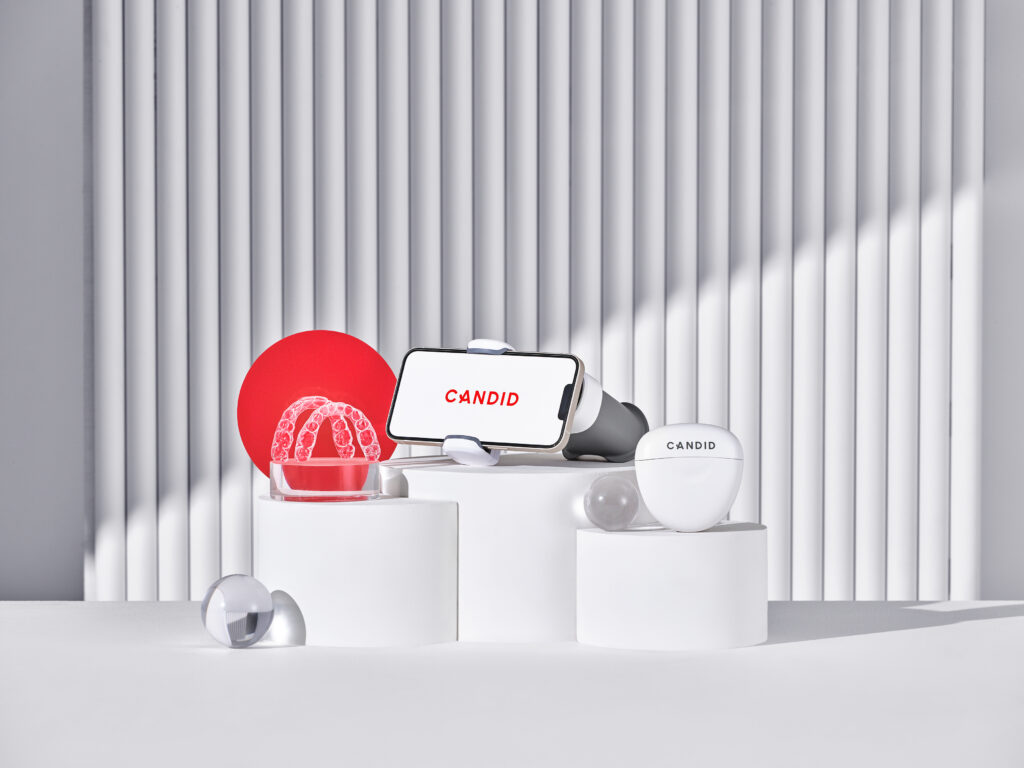 3. Candid Clear Aligners are convenient
Candid is built in a way that caters to you and your daily routine. We can all appreciate how life gets busy and how time just disappears. We often end up not having time to do the things that we want to do. The combined treatment model of remote and in-person care makes it easier to balance day-to-day life and your orthodontic treatment.
Specifically, the CandidMonitoring system allows you to send digital scans of your teeth to your dentist and the Candid team via their mobile app, so that they can evaluate your progress every step of the way. This makes Candid treatment much more convenient and streamlined than other clear aligner options. In addition, the easy access to Candid's support team via the Candid App seven days a week makes Candid more convenient.
4. Candid customizes your treatment
Candid works closely with your dentist to ensure your treatment plan is tailored to your specific goals and needs.
Candid bases its treatment design on the objectives your dentist determines by examining your teeth and discussing your primary concerns. So, instead of relying on dental molds, Candid treatment revolves around the expert evaluation of someone who has looked at your teeth in person, considered your specific goals, and taken accurate intraoral scans. That extra step makes for a highly precise and personalized clear aligner plan.
5. Candid is affordable
The total cost of Candid treatment depends on your provider.
This price includes everything you'll need from start to finish. From your office visits, treatment plan, aligners, CandidMonitoring equipment, and whitening foam.
Candid's price also varies based on the location of your provider. Here at Clermont Dental, we like to keep things very budget-friendly and currently have a promotion running for CandidPro till the end of summer. We are offering $500 off your treatment.
Give us a call today to get started.
Candid Pro clear aligners can give you the smile of your dreams without the hassle and pain of traditional braces. They're more affordable, they don't require you to go through a lengthy process to get them. Whether you're looking to straighten one crooked tooth or close an overbite in time for your wedding day (or both!), CandidPro can help make your smile dreams come true with less hassle than ever before.